I0CG K1 transceiver page

I have recently purchased a K1 transceiver Kit. It works great! Enjoy yourself in assembling it!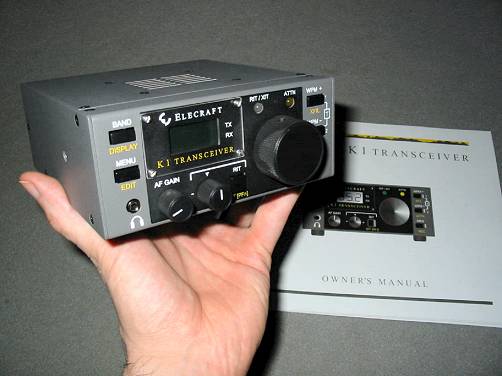 Photo: courtesy of Dj0my
That's an ideal equipment to make modifications on!
This is the list of all mod's I've allready done:
(and many more are in a waiting list)
Improved SSB reception by adding an inexpensive ladder filter (6 x 4915 kHz crystals) of 2.2 kHz bandwidth.
Both USB and LSB carrier generation; I used two 4915 kHz crystals in a "super VXO" configuration making possible a 3kHz shift between the two USB and LSB carriers.
VFO range extended up to 250 kHz to span complete Ham bands; in 20m, for instance, the actual range is 14.000 to 14.250 or 14.100 to 14.350 (68pF NPO cap. in parallel to the VFO resonant circuit did it!)
Two idependent SSB TX and RX crystal filters to simplify the circuit.
Double Side Band generation operated by a SA602 balanced modulator.
Download: K1 SSB modification ED2
I tested the modified K1 in the last months operating CW,USB,LSB and PSK31 modes with many Ham on 40m and 20m bands;
Tests were perfomed with internal autotuner too (Elecraft KAT1 option) without any problem;
And finally the modified K1 performs CW as well as without mod's.
Modificatios can be easily reproduced by anybody.
Schematics and Bill of materials are inserted in a PDF document.
No microprocessors are needed to run it!
If you are interested I can help you only with the above documents and with Gerber Files to riproduce PCB.
Download: K1 SSB gerber file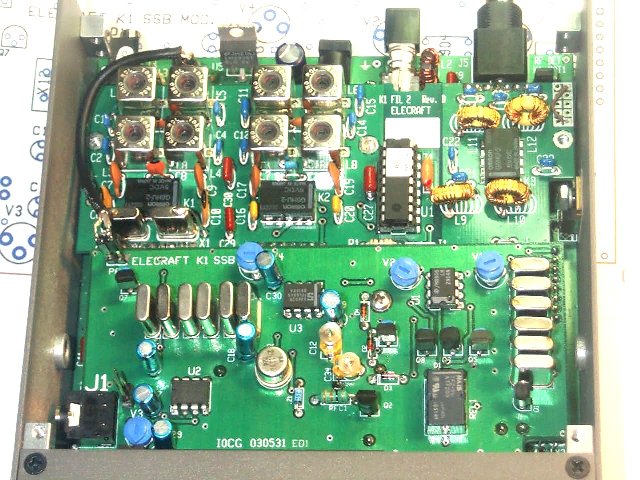 K1 assembled with beta-test PCB
See my new Project DDS digital VFO that is working on DRAKE 4 Line and on the K1 transceiver too!
See also " DDS DIGITAL vfo for K1 and Drake 4 line"
73 to all Ham and K1 & K2 enthusiasts!
Are you interested to this project ?
Write to

Giuliano I0CG
Italian Amateur Radio
K1 # 1523
ARI; ARRL member
See also" My WEB page" with many other projects
This page will be always "under construction"